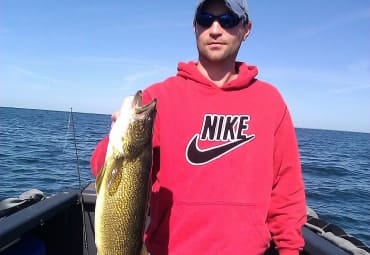 Door County Guided Walleye Fishing
Early spring and late fall are prime times for fantastic Walleye fishing.  As soon as the ice leaves the Bay (Generally late April) things start to heat up. Our 37' ProKat charter boat will be docked on the Green Bay side and rigged for trophy Walleye, German Brown Trout and Northern Pike. This is a great time to catch good numbers of eater fish and some real pigs!
By early September, when the fall Walleye fishing heats up, we will again focus our attention on fishing the Green Bay side. Night trips have been exceptionally productive, and limits of huge Walleyes are not uncommon. The Walleye fishing will generally run through October. If this year is anything like last year, it's going to be a fantastic summer.